2021 Colors of the Year
Jan 11, 2021
Illuminating + Ultimate Gray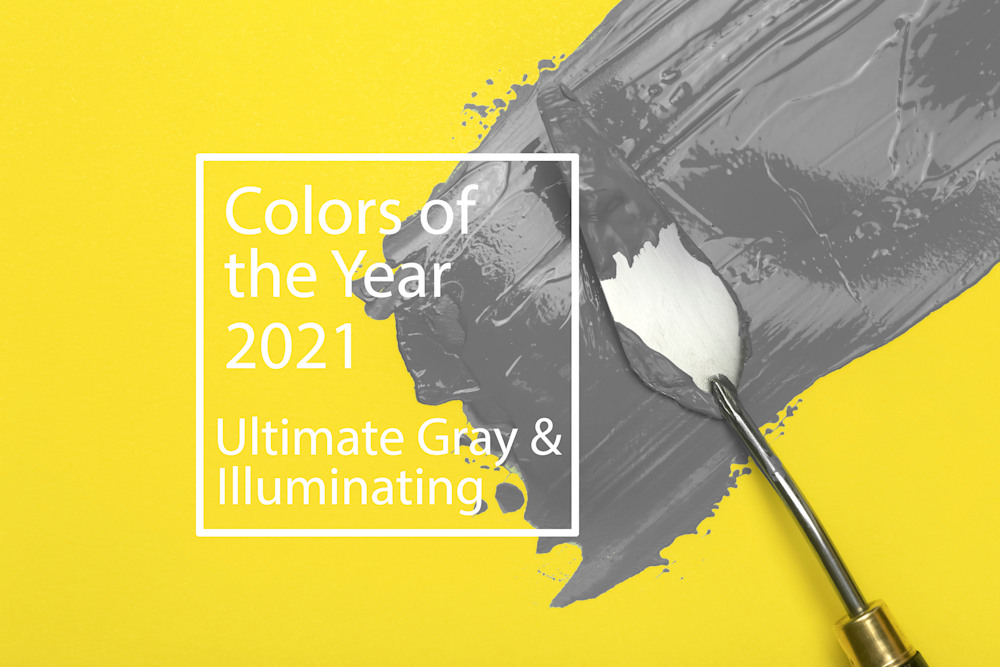 For over 20 years, Pantone's Color Of The Year is a reflection of color trends in fashion, beauty, design, home décor and art. Since the beginning, the initiative has also served as a mode ring, if you will, selecting the hues that capture the spirit of the time. Every December, I look forward to the yearly announcement of what color Pantone has chosen as its Color of the Year.
This year they chose not one but two colors: Illuminating 13-0647 and Ultimate Gray 17-5104. It's the first time an achromatic shade (gray) has been selected, and the second time in 20 years that two colors have been chosen. In 2016, the pale pink and blue hues broke the norm when they were presented as a gradient. Pantone wants people to consider the colors' impact as a unified pair, hinting at the importance of solidarity in the coming year. According to Pantone's press statement, Illuminating is associated with optimism and vivacity, while Ultimate Gray encourages "feelings of composure, steadiness and resilience."
Though the Color of the Year is meant as a trend forecast, the 2021 picks seem clearly metaphorical. "Illuminating", the bright, sunshine-yellow color, is the light at the end of the tunnel, the sun rising over a dark landscape. It is often associated with cheer and happiness. "Ultimate Gray", although it was chosen for its qualities of fortitude and reliability, is the color of cloudy skies, sidewalk cement, stone, or low-light screens—the color evokes our collective experiences over the past year. Gray is linked with negative moods like sadness, fear and disappointment. During nine months of quarantine, we've certainly arrived at the "ultimate gray," a state of mind.
One thing has become abundantly clear during this time...across the world is this deeper understanding of how much we need each other. Our connections to other people, our relationships with other people, give us that emotional support. After a tough year of sheltering in place, this selection of two independent colors express a message of strength and hopefulness that is both enduring and uplifting, conveying the idea that it's not about one color or one person, it's about more than one.
Trends
Many people have been buying paint during quarantine, swapping out their wall colors to alleviate boredom. But some paint brands say that they have noticed a marked decline in the popularity of dark gray in favor of more organic colors like light blues and greens, perhaps a wish to bring some nature indoors. But gray can provide its own kind of relaxation, offering a space that's neutral both emotionally and physically.
The yellow is like an accent wall. It suits the mood of our moment, both returning to basics and looking for small moments of excitement or change. Sprinkle this bright yellow throughout your home. A vase, a pillow, a planter or throw, rather than for an entire set of bedding, a wide swath of draperies or wall paint.
Gray is the color of contemplation; it makes us notice things we might not have paid attention to before, standing out amidst the tedium. The lightness of this gray helps a room feel more casual than serious, making it a healthy choice for living spaces, bedrooms, even offices, and allowing a neutral palette for the sunny accents of "Illuminating".
Artists
Adding a little to your artwork is reflective of happiness and optimism. But take note that more is not always better and small doses are sometimes much better than wide scale use in a piece. Yellow, in its brightest tones, has an irritability factor.
Let these colors of Ultimate Gray and Illuminating be a humbling reminder of the hardships last year brought, but the light at the end of the tunnel that this year conveys.
Wishing you all a Happy New Year!